There was once a time when combining a nursing career with dreams of running your own business would have seemed unlikely, even impossible.
These days, though, a healthcare background and a passion for business can be a winning formula for success, especially as the demand for home care in Australia continues to grow. This was certainly the case for Claire Zhang, a former registered nurse who turned her passion for caring into a successful home care business.
In March this year, Claire took steps towards making her dream come true by starting her own franchise with HomeCaring, thanks to our innovative 50/50 joint venture structure where franchisees
only need to provide half the total investment, and earn an ongoing 50 per cent of the profits.
Since starting, Claire's business has grown to 38 clients and a strong team of over 20 support workers. We had a quick chat to find out the story behind her success.
Claire, you started out as a registered nurse in an Adelaide aged care ward. Twelve years on, you now own your own Home Caring business. How does your former nursing career help you as
a franchisee?
My background as a clinical nurse has helped me significantly in the business. When I'm talking to
aged care and NDIS clients during the intake process, I'm able to intuitively understand the clinical side of things. This gives clients much more confidence in putting their care under my management. I'm also able to identify associated care needs and risks quite quickly, and develop measures (or a care plan) so my employees are fully aware of their duties and responsibilities during service delivery.
You've always wanted to run your own business. What was it like to leave a steady job to start something you had never done before?
Although I had many years of experience in the care industry, it was still somewhat daunting at the beginning! But I have to say that it was rather exciting too. This is not only a business but also my new career path, which I advocate for 100%.
What steps did you take to build up your first network of clients?
My first network of clients came from offering a free consultation at a local shopping mall in my franchise territory in Campbelltown, Sydney. From there, I was contacted by a NDIS support coordinator, and that led to a number of clients.
Where do you hope to take your franchise in the future?
I'm hoping to support more and more seniors and people with disability in my local area, to help them achieve their care goals. Although Campbelltown has several developed providers, I have found there's a demand for home care services that's more local to clients from suburbs like Ingleburn and Minto.
I'm also hoping to help elderly and NIDS participants that are from my cultural background. A lot of them needs professional advice and guidance throughout the process, from applying for funding to exploring options in services.
What are some of the challenges you've faced since starting your journey as a franchisee?
One of the challenges for me is time management. If you are doing well in the home care industry, your business will grow fast. It can be even faster than you have expected. I would recommend establishing your own system of keeping up with all the tasks, like networking, case management, staff training, client satisfaction and cash flow.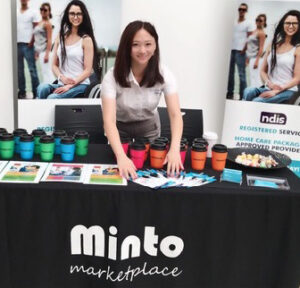 "I am more productive than I used to be, but only because I have found the job that I love to do."
What is the most rewarding part of owning a home care business?
The most rewarding part is being able to see improvement with a clients' progress,
or receiving a compliment. Yesterday, one of my clients rang me at 5pm because she needed medication urgently as part of the preparation for her procedure, which could not go ahead without it. When I received her phone call at 5pm, I went to get the medication and deliver it to her home address. She later emailed me and said, "I am out of the hospital now and doing well. Thank you for your kindness on the day before my admission. It meant a lot to me."
What have you learnt about yourself since starting a franchise?
The greatest thing I have learnt about myself is that I am more productive than I used to be, but only because I have found the job that I love to do. To me, the best thing about owning my own home care business is that I can work flexible hours. This is what I enjoy; I can work at 10pm just as easily as 8 in the morning. I still make sure I take down-time
though! I really enjoy time with families and friends, karaoke, Korean BBQ, or going away for a weekend of wine tasting and rock pool swimming.
What advice would you give franchisees who are in the same position you were in when you first started out?
Caring for someone should be natural and authentic. Remember: communication is the key!
Thanks for your time, Claire! We wish you all the best! You can read more about Claire's franchisee journey as a former registered nurse in this article from Franchise Business magazine